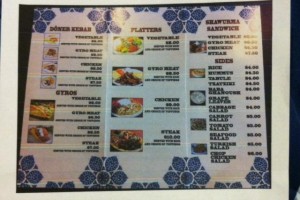 Durum Grill, a new Greek restaurant opened Sept. 20 and is a great place to try a kebab or shawarma. Cincinnatians have tried the new restaurant and enjoy the cuisine it offers.
The restaurant has options in particular for vegetarians. Customers can choose from a vegetable kebab, gyro, platter, or shawarma.
"When I went to Israel I tried shawarma for the first time and I really enjoyed it," said Spencer Mandell, 11.
For meat lovers they serve lamb, chicken, and steak. Durum Grill's authentic Greek gyros come in a pita with all the normal toppings.
The restaurant is located in Blue Ash, with the owner often found behind. He is from Turkey and the restaurant's atmosphere is very Middle Eastern. It is located in a strip mall next to an Indian restaurant.
"Durum Grill is my new favorite restaurant. I now sometimes eat there on weekends," said Matt Miller, 9.
All customers who eat there get a free drink with any food order. All the food is made fresh daily, and rarely disappoints.
"That is great that you get a free drink! Whenever I usually buy foods I often times have to pay for a drink," said Scott Retta, 10.